During our activities, the local culture is integrated into the program as much as possible. For the same price, why not?!
 
The heritage of the past gives contemporary life the keys to its origins and its future options.
It is an inexhaustible source of inspiration and, not rarely, of moral reflection (crusades, WWII).

Activities
Visit prehistoric site (caves), Neolithic (menhirs), Celtic, Middle Ages (castle), elves and witches, WWII (World War II).
Discovery of towns and activities such as traditional pastoralism, canavals and festivals steeped in history…
Region
Ardennes & Belgium & Europe
Duration
3 hours ("1/2 day"), 6 hours ("full day"), 2 days and +
Tailor-made duration
Periods of the day (4)
Dawn, morning, afternoon, evening
Reservation
Via Contact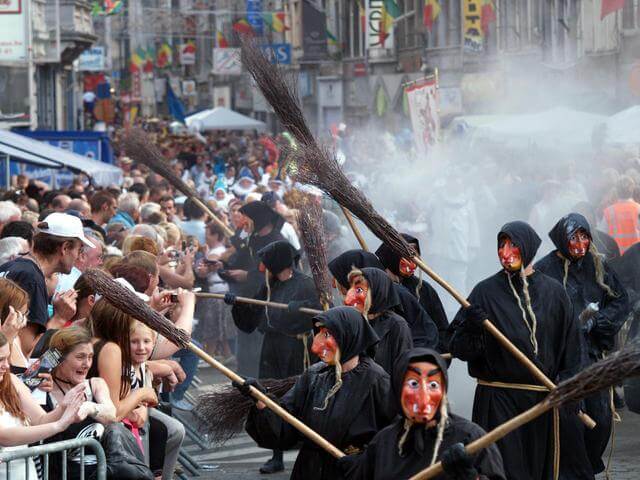 Local culture can take very different forms and dimensions. Its forms can be those of vestiges of the past or reinvent themselves in current life. As for its dimensions, it can evoke great moments in history as well as concrete aspects of an ancestral way of life.
THE VESTIGES OF THE PAST …
History: like the Neolithic with the menhirs of Wéris, the Celtic sites, the castles of the Middle Ages, the crusades …
An ancestral way of life, such as the Mirwart cooler, the fridge of our ancestors, the washhouses or the loggers' cross commemorating a drama reflecting their harsh life at the time …
 
An economic activity of the past such as the tobacco dryers of the Semois valley, the water mills, the forges which worked with charcoal, the flourishing trade in blueberries picked in the fagnes of the Haute Ardenne, the slag heaps, . ..
 
CURRENT LIFE…
 
Battle of the Bulge: re-enactment of the Battle of the Bulge.
Pastoralism: traditional livestock activities associated with the ecological management of landscapes
Events: the unmissable carnivals, blueberry festival, the macralles sabbath, …
Local products: cheeses, beers, chocolates, …
Cities: Durbuy, Monschau, Liège, Maastricht, …